You may have seen a news item today claiming, "According to the club's manager, Ron Jeremy was hosting the Derby event at the club. At some point while Jeremy was talking with some fans near the bar area, he was approached by a, according to many, highly intoxicated Miley Cyrus who, thought he should die for ripping off her video."
Apparently this site is trying to be something like the Onion. I'd call this story an epic fail. There is nothing entertaining or thought provoking in this piece of garbage writing. For that reason I will not even share the name of this lame website or link to the abhorrent article. It is true Ron was appearing at a Derby Party at Trixie's in Louisville on May 3rd but that is where the truth to this story ends.
The story has already been debunked as a total lie. Ron himself tweeted "FYI – NOT TRUE ". The site Global Flare has also reported the story was a "Hoax". The truth is actually the complete opposite of what this article claims. As we reported last week, Ron recently put out an album on the label BCR which also produced an album with Billy Ray Cyrus, Miley's dad. Ron and Billy Ray know each other and Ron told me last week that he had received word that both Miley Cyrus and Billy Ray Cyrus LOVED the parody video and thought it was hysterical. I don't know Miley Cyrus at all but from what I have seen of her, she strikes me as someone who has a decent sense of humor and the ability to laugh at herself.
Ron also reported that Teri Richardson, the Director of Miley's original  Wrecking Ball video watched and enjoyed the parody. The Ron Jeremy parody of the original Wrecking Ball music video was directed by Nathan Coltrane and produced by Amber Smith who went to great lengths to copy the original shot for shot and they did an amazing job. Speaking about making the video Amber said, "Ron Jeremy was a great sport. We have a great crew of friends that pulled this off in just two days of filming. With Nathan Coltrane directing & Micheal Greenman as our DP, it went as smooth as can be. Tons of laughs on set and never a dull moment around RJ. I'm glad to hear that the argument between him and Miley Cyrus was a hoax. It was really meant to be for fun. I heard that her and her dad Billy Ray Cyrus actually liked the video. I knew she had a good sense of humor."
You can see a side by side comparison of the two in this YouTube Video: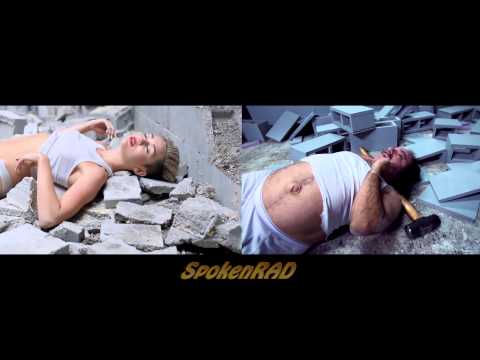 I am a big fan of intelligent satire and of course we all know Ron loves comedy but personally I find this most recent failed attempt at humor at the expense of Miley Cyrus to lack any constructive social criticism I would hope to find in a satirical piece. This fake news item is not witty, but is simply a mean spirited ploy to bring internet traffic to a website written by losers trying to capitalize on the fame of Ron Jeremy and Miley Cyrus. It's pathetic and I would encourage all of you to ignore this story and refrain form sharing it or passing it on to others. If you are looking for something funny to brighten your day try the Onion or Funny or Die. Better yet, watch some more videos from the great people who made the Ron Jeremy Wrecking Ball Parody by visiting the SPOKENRAD channel on YouTube.